CHRISTMAS TREE PACKAGE SWEEPSTAKES
Enter for a chance to win a PLATINUM CHRISTMAS TREE PACKAGE ,
courtesy of Sacksteder's Interiors. Prize is valued at $999.

Sweepstakes ends November 14, 2021.
Sweepstakes is open to all legal residents of Ohio, Kentucky & Indiana.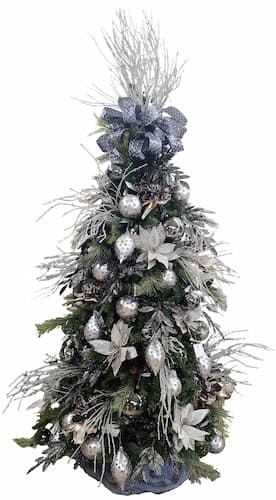 Everything you need to decorate your tree for the holidays.
12x Platinum Velvet Magnolia
16 x Silver Gem Ball Ornament
8 x Silver Gem Finial Ornament
12 x Small Platinum Shiny Ball Ornament
6x Large Platinum Shiny Ball Ornament
12 x Small Platinum Shiny Ball Ornament
2 x Sequin Lattice Platinum Ribbon
12 x Platinum Glitter Twig Spray
12 x Glitter Bay Leaf Spray Gunmetal
* Tree Not Included

THE SWEEPSTAKES IS NOW CLOSED
THANK YOU TO OUR SPONSORS AND PARTNERS